WUHAN LANDMARK: RESPONSIBLE SUPPLIERS OF CINNAMIC ACID
Views:20 Author:Site Editor Publish Time: 2019-12-23 Origin:Site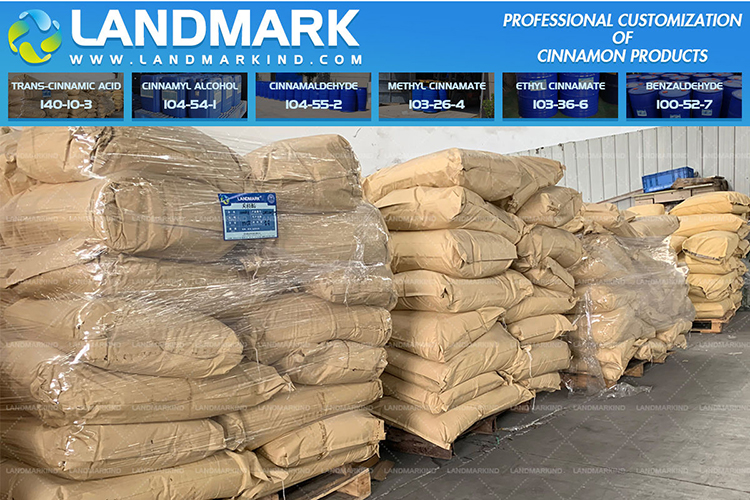 Wuhan Landmark, which specializes in the research, development, production and sales of cinnamon series, is a proactive resourcing specialist company offering a wide range of raw materials for use in the flavors, fragrances, food additives, and cosmetics industries. Christmas and New Year's Day are coming soon. Thank you for your support and trust in the past years! Cinnamic acid and other raw materials offered by Wuhan Landmark are available at discounted prices during this sale period.
Cinnamic acid [ CAS 140-10-3 ], or trans-Cinnamic acid, has the formula C6H5CHCHCOOH and is a white crystalline organic acid, which is slightly soluble in water. Cinnamic acid can be used as a fragrance mixture for soap, shampoo, laundry detergent and daily cosmetics. Cinnamic acid has a strong stimulant effect and can be widely added directly to all foods. Cinnamic acid can also be used in cosmetic applications. In terms of organic chemical synthesis, cinnamic acid is also widely used.
Since the establishment of the company, with strict product quality, reasonable transaction price, high-quality sales service, honest business reputation, perfect sales network and after-sales service, Wuhan Landmark has won a reputation among customers and has maintained a fierce market competition. Wuhan Landmark continuously strives to offer Cinnamic acid with high purity ≥99%.
Typical packaging for this material is 25kg/Fibre Drum or 25kg/Brown Paper Bag. Landmark's distributed warehouses are equipped to handle and store safely any size shipment needed. Our expert logistics team will track your order from the time the product leaves the plant until it is delivered to your facility.
Contact Wuhan Landmark now for a quote on cetearyl cinnamic acid info@landmarkind.com