Isoamyl p-Methoxycinnamate - Sunscreen Ingredient
Views:32 Author:Site Editor Publish Time: 2019-08-13 Origin:Site
Isoamyl p-Methoxycinnamate is a natural compound which is found in the roots of the Indian Galangal plant, a member of the Ginger family. Commercially, it is prepared from Cinnamic acid which is found in the leaves of the cinnamon tree, and is chemically identical to the naturally occurring molecule.
Isoamyl p-Methoxycinnamate Specification
Products Name: Isoamyl p-Methoxycinnamate
IUPAC Name: 3-methylbutyl (E)-3-(4-methoxyphenyl)prop-2-enoate
Synonyms: Isoamyl 4-methoxycinnamate; 4-Methoxycinnamic acid, isoamyl ester; Neo Heliopan E1000; Isopentyl 3-(4-methoxyphenyl)acrylate; ISOAMYL METHOXYCINNAMATE; Isopentyl 4-methoxycinnamate; 3-Methylbutyl 3-(4-methoxyphenyl)-2-propenoate; Isopentyl p-methoxycinnamate
CAS NO.: 71617-10-2
Molecular Formula: C15H20O3
Formula Weight: 248.32
Boiling Point: 362.00 to 363.00 °C. @ 760.00 mm Hg
Appearance: colorless to yellow clear liquid
Soluble in: alcohol; water, 4.858 mg/L @ 25 °C (est)
Assay: 95.00 to 100.00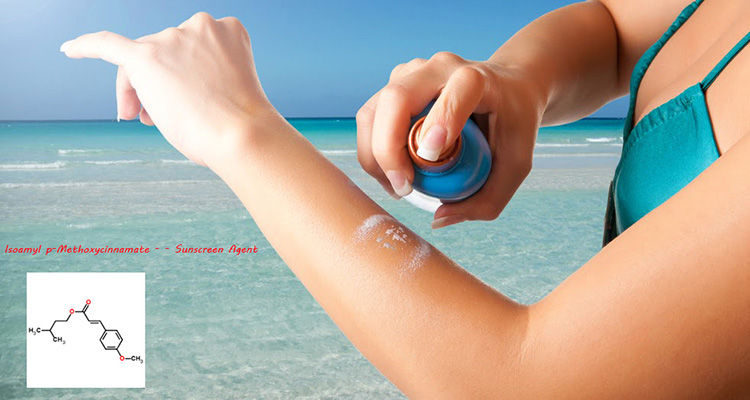 Functions of Isoamyl p-Methoxycinnamate
Isoamyl 4-Methoxycinnamate is an ingredient in some sunscreens. Isoamyl 4-Methoxycinnamate is used in the highly protective sunscreen composition against the UVA/UVB. Application of Isoamyl 4-Methoxycinnamate: Ultraviolet Light Absorber; UV ABSORBER; UV FILTER.
Supplier of Isoamyl p-Methoxycinnamate – Landmark
Wuhan Landmark Industrial Co., Ltd. was established in 2012 and is located in Wuhan City, Hubei Province. We specializes in the research, development, production and sales of flavors and fragrances, fine chemicals, and food additives. The main products are: trans-cinnamic acid, cinnamaldehyde, cinnamon alcohol, methyl cinnamate, ethyl cinnamate, Isoamyl p-Methoxycinnamate and so on.