Applications of Trans-cinnamic Acid
Views:22 Author:Site Editor Publish Time: 2019-09-05 Origin:Site
Trans-cinnamic acid, also known as (2e)-3-phenyl-2-propenoic acid or (E)-cinnamate, is practically insoluble (in water) and a weakly acidic compound (based on its pKa). Trans-cinnamic acid is a sweet, balsam, and honey tasting compound and can be found in a number of food items such as maitake, mustard spinach, common wheat, and barley, which makes trans-Cinnamic acid a potential biomarker for the consumption of these food products.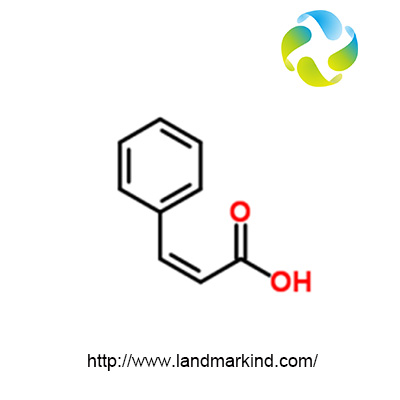 Trans-cinnamic acid can be found primarily in saliva. Trans-cinnamic acid exists in all living species, ranging from bacteria to humans. Trans-cinnamic acid is a non-carcinogenic (not listed by IARC) potentially toxic compound. Cinnamic acid is an organic compound with the formula C6H5CHCHCO2H. It is a white crystalline compound that is slightly soluble in water, and freely soluble in many organic solvents. Classified as an unsaturated carboxylic acid, it occurs naturally in a number of plants. It exists as both a cis and a trans isomer, although the latter is more common.
The major applications for cinnamic acid include synthetic indigo, flavoring agent and preparation of various esters, amides and cinnamoyl acids which find range of pharmaceutical uses especially in diseases like malaria and tuberculosis. The derivatives of cinnamic acid are used as main components in anti-oxidants, anti-diabetic and anti-cholesterolemic medicines.
The market for cinnamic acid is governed by its major application in perfume industry and as a flavoring agent which are in greater demand across Asia-pacific region. The other drivers for cinnamic acid include its derivative preparations which are mostly used in various medicinal preparations including that of tuberculosis and malaria which are predominant in developing countries like India and Brazil.
About Wuhan Landmark Industrial Co., Ltd.
Wuhan Landmark Industrial Co., Ltd. was established in 2012 and is located in Wuhan City, Hubei Province. We specializes in the research, development, production and sales of flavors and fragrances, fine chemicals, and food additives. The main products are: trans-cinnamic acid, cinnamaldehyde, cinnamon alcohol, methyl cinnamate, ethyl cinnamate, benzaldehyde and so on.
Why choose to buy Trans-cinnamic acid from Landmark?
1 High quality with competitive price
We are manufacturer and can provide high quality products with factory price.
2 Fast and safe delivery
2.1 Parcels can be sent out within 1-3days after payment. Tracking number is available.
2.2 Secure and discreet shipment. You have various choices of transportation methods.
3 We have clients throughout the world.
3.1 Professional service and rich experience make customers feel at ease, adequate stock and fast delivery meet your desire.
3.2 Market feedback and goods feedback are appreciated, meeting customers' requirement is our responsibility.